Southern Baptist Convention
864-254-8438 Cell: 864-704-4664

The Revival
Message of
The New
Testament
At life out of death our goal is to
share the message of the Christ life to
churches and see churches experience
true New Testament revival!
Learn More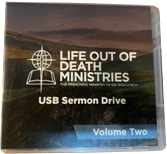 Over 55 Sermons, click to learn more


About Dr. Ron Lynch
DON'T MISS
This Sunday, May 17th at 6:30 PM
Roundtable Discussion Part 111
for more information
click here
The message of Life Out of Death is the revival message of the New Testament. Death to self is the essential element that must be understood by the Christian in order to live the Christian life. Believing and Receiving this will bring real revival and blessing to your life and your church. Please contact me if you are interested in "Real New Testament" revival. ~ Gal. 2:20
~ Dr. Ron E. Lynch
Dr. Lynch pastored for 25 years before going into full-time evangelist/revivalist ministry. Out of a desire for revival, God directed Ron to establish LIFE out of DEATH Ministries.
Dr. Lynch has preached over 1,400 revival meetings throughout the world. He has served as Past President of both the N.C. and S.C. Pastor's Conference. Ron and his wife Judy, are trusting God that the message of LIFE out of DEATH Ministries will be received, and revival will result in the church.
Learn More
Store

Living in Light of the Lord's Return


Study of Revelation, 5 hours on cd or dvd


Future Events


The 5 major events of the end times


23 Psalm


6 CDs


How to Live the Christian Life


CDs or DVDs