About Dr. Ron Lynch
The message of Life Out of Death is the revival message of the New Testament. Death to self is the essential element that must be understood by the Christian in order to live the Christian life. Believing and Receiving this will bring real revival and blessing to your life and your church. Please contact me if you are interested in "Real New Testament" revival. ~ Gal. 2:20
~Dr. Ron E. Lynch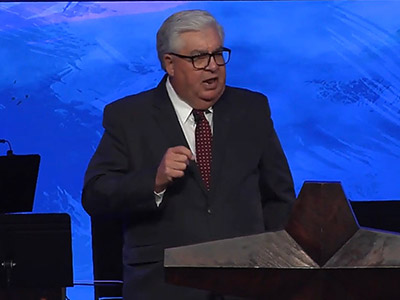 Biography:
Dr. Ron E. Lynch
Born: October 28, 1950
Preached in over 1400 meetings worldwide.
Family:
Married to Judy H. Lynch for 50 years in May 2022. Five children: Angie Lynch Ball, Mandy Lynch Corbin, Amy Lynch Yates, Tim Lynch, and Nathan Lynch, and 13 grandchildren.
Education:
1969 Graduated East Lincoln High School
1977 Bachelor of Arts, Gardner Webb University
1980 Master of Divinity, Luther Rice Seminary
1981 Doctor of Ministry, Luther Rice Seminary
Ministry Experience:
Pastor, Midway Baptist Church, Clover, South Carolina space, 1975–1978
Pastor, Second Baptist Church, Chester, South Carolina, 1978–1979
Pastor, Spears Creek Baptist Church, Columbia, South Carolina, 1980–1981
Pastor, Varennes Heights Baptist Church, Anderson, South Carolina, 1981-1986
Pastor, Hunter Hills Baptist Church, Greensboro, North Carolina, 1986–1993
Pastor, Green Acres Baptist Church, Warner Robins, Georgia, 1993–1994
​President of Life out of Death Ministries, 1994 – present
Pastor, Greenbrier Road Baptist Church, Anniston, Alabama, 2000–2003
Pastor, Siloam Baptist Church, Easley, South Carolina, 2005–2010
Doctrinal Statement:
I believe the 2000
Baptist Faith and Message
doctrinal declarations to be true and trustworthy.
Emphasis:
Expository Preaching
Evangelistic Outreach
Equipping the Saints
Goals:
To know Christ and Make Him Known to All the World